ALBUMS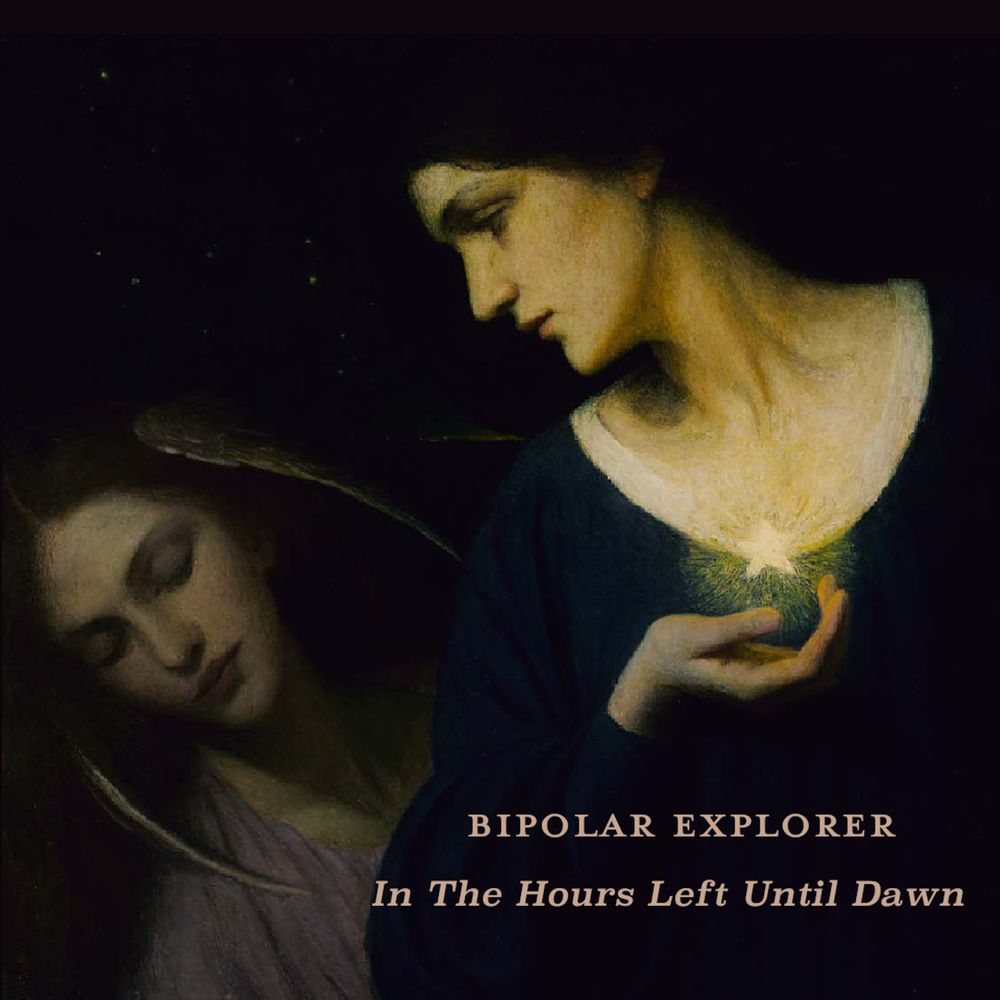 In The Hours Left Until Dawn
2023
Released on April 7th, 2023, In The Hours Left Until Dawn is Bipolar Explorer's 11th album. Advance airplay for the new album found it appearing in The Heavily Played Records charts of both New York's WFMU and California's KFJC, as well extensive previews on London's Resonance FM.

A double-album - 22 tracks over two discs and two hours - it weaves together strands of the experimental, the ambient, spoken word, field recordings sprinkled with instrumentation and shoegaze-y compositions in a kind of eclectic, deep-listening dreamscape.

In The Hours follows in the mold of two of the band's most recent albums - 2020's Deux Anges (another double-album) and 2021's Forests, Voices, Coastlines, Dreams: Recordings for The Dark Outside. While the latter (as its title may suggest), a collection of the band's compositions for the UK's storied experimental radio project, focused exclusively on the group's more avant garde work and the former a more eclectic cross-genre endeavor, both mark the group's affection for radio and their aim to create long-form soundscapes that evoke what the UK's Norman Records has described as akin to "a distant late night radio transmission drifting to us as we lay half asleep in bed."
SLUGG033CD
Forests, Voices, Coastlines, Dreams: Recordings for The Dark Outside
2021
This album comprises the seven pieces we recorded for the UK's storied experimental radio broadcast event The Dark Outside. Soliciting new unheard, unreleased work and then assembling a 24 hour broadcast from Galloway Forest (and one year in Epping) The Dark Outside has been held annually since 2012. Furthering its mystique, the broadcast can only be heard within the narrow range of the transmitter rented for the event. During the pandemic, Dark Outside's curators reinvented its scope by taking it online and, over those 18 months of lockdown, holding it thrice more. I think what intrigued us most about the project - and during the lockdown versions when it was broadcast online we would wake in New York and France and, like children on Christmas Eve, stay up all night into the following day to hear each delightful hour of it - was the invitation to compose Experimental music. Drones over field recordings. Synth improvisations anchored by spoken word. Tape loops with ambient guitar underscoring. Admittedly, we were already including works like these on our albums but each new Dark Outside gave us an "excuse" to try another track in this vein. The Dark Outside returned to its in-person format in September for its sole 2021 broadcast and as our hope rises that some sense of normality will return to our lives, we dream of attending in 2022 for the festival's 10th anniversary, flying to England and renting a room to be nearby, listening on a transistor radio, strolling about the grounds. We expect to release a "proper" album, our 11th, next year, as well. Meantime, we hope you enjoy this diversion (we've taken to saying, only half-kidding, that this release is for everyone who always likes the weirdest stuff on our albums, that, here it is - just the weird stuff) as much as we enjoyed making it for you.

With thanks, love and faith,

Michael Serafin-Wells
New York City 
SLUGG028CD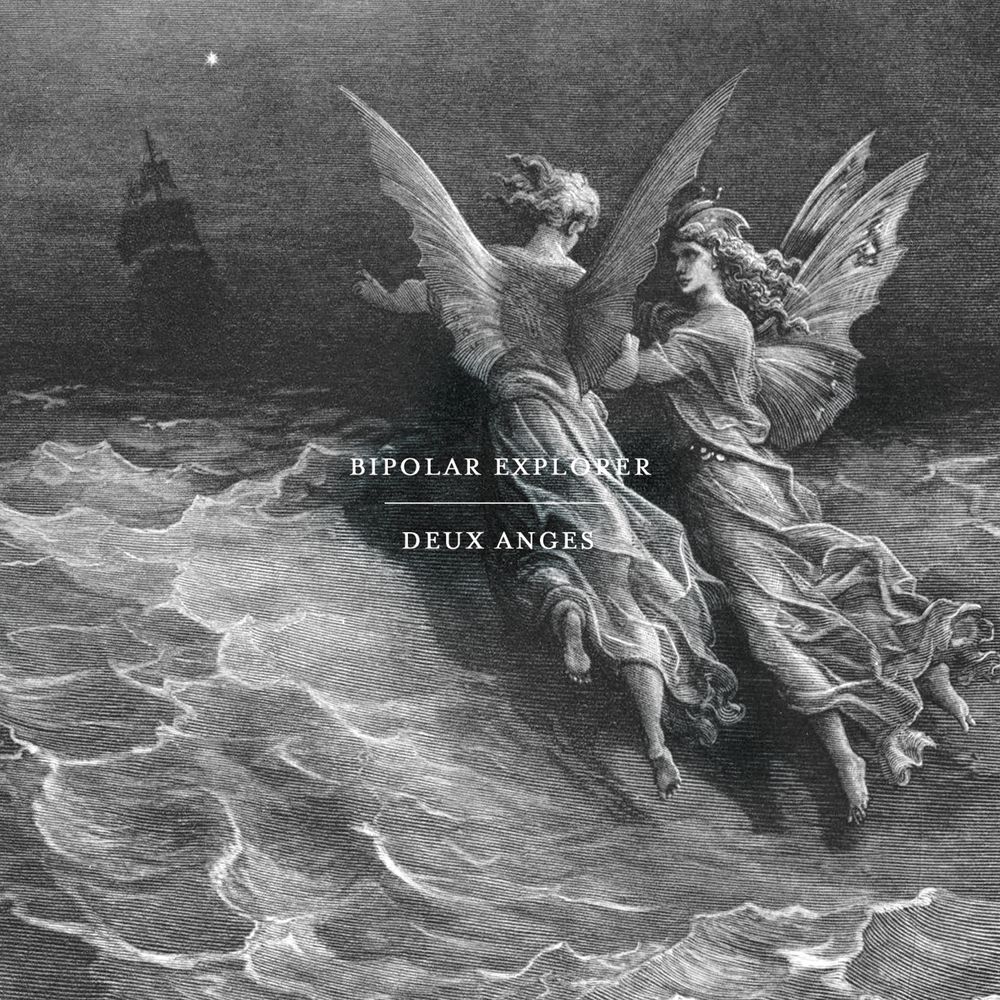 Deux Anges
2020
The band's 9th album, another double-album, Deux Anges, will be released on November 13th. Thirty tracks over two discs, it embraces the spectrum of all the diverse strands of the group's recent kind of work - the ambient, the experimental, field recordings sprinkled with instrumentation - as well as the more traditional dreampop songwriting and shoegaze-y underscored spoken word, that has become their signature.
On September 19, California's KFJC broadcast a three-hour special about the band. Hosted by Carson Street, the first two hours looked back at the group's first 8 albums and concurrent singles, before turning in the third hour to an exclusive preview of Deux Anges itself - hailed by the host as "Mysterious. Otherworldly. An emotional musical journey."
Available now as a pre-order, the band is making a new track from the album available each Friday until the full release on November 13th. The first of them, "Santa Barbara", prompted kind words from France's Punktum magazine:
"The announcement of a new Bipolar Explorer album is always, to us, a surprise as formidable as it is pleasant. Indeed, this project, which we've been loving for several years now, has never tried to do the same work twice, slow rock movements on which Summer, Sylvia and Michael lay their spontaneous inspirations. Drawing ideas from the realm of dreams, as well as the deeper, more refined confrontation with reality, through a softness full of wisdom and contemplation, Bipolar Explorer is a call for renaissance, a refusal of passivity, without any futile anger. An introduction to the inner and spiritual dream, the first excerpt, "Santa Barbara", with its hypersensitive contours, goes beyond our hopes and dreams, while found sounds from an indescribable place and the musicians', pure and unique, meet. DEUX ANGES is released on November 13th."
-Raphaël DUPREZ, Editor,  Punktum (France)
SLUGG024CD
Til Morning is Nigh: A Dream of Christmas
2018
Hailed by France's Les Oreilles Curieuses as "dreamlike, luminous and enchanting" and named by Portugal's Shoegazer to the #5 spot in its Top Ten NYC albums of 2018, Til Morning also garnered kind words from WFMU's Carol Crow, who debuted the track "Angel Frequency" on her show, calling it "Ethereal music that sends the listener up towards the heavens to sit aloft on the clouds above. A truly ascendant album to be listened to any time of year".
Featuring both new compositions and new instrumentation (organ, synth, melodica). And new voices - joining band co-founders Summer and Michael is Sylvia Solanas. Originally from the south of France, Ms Solanas voices spoken word in French on the new album and is a co-founder (with Michael) of the band's brand new sibling in dreampop, Tremosphere, who themselves will release a debut album early in 2019.
"So… we had already had plans to write and record this album, our eighth, early this year and had the good fortune to be gifted the rights (by The Slovak National Gallery) to the breathtaking painting by the late L'udovit Kochol that graces its cover. But before we could begin in earnest, Michael was hit by a car on the day before his birthday in April, awaking in the ER with serious injuries. Then, two weeks later as he was initially released, collapsed on the sidewalk outside of the hospital, in Sylvia's arms. Terrified, she screamed for help and texted Summer's dad, a MD, who replied immediately in all caps: "pulmonary embolism". Rushed back into Trauma, his heart stopped for a full ten minutes. Usually fatal, it's something of a miracle he is still with us - returned and guarded by angels on both sides of the divide. This record, a dream bridging that very chasm, echoes those moments between worlds, like a late night broadcast from a distant radio transmitter drifting to us as we lay half asleep in the midwinter twilight. The album's bilingual spoken word mirrors this, too - angels (Michael's and our own), both celestial and earthly, enveloping us with love and protection"
Happy Christmas.
Summer, Michael & Sylvia.
SLUGG0015CD
Sometimes in Dreams
2018
NYC shoegaze trio follow up their acclaimed sixth album, DREAM TOGETHER - "magical & majestic, an ultimate-tour-de-force" (Indiemusic - France) - with this groundbreaking new double-album. A gapless flow of dreampop and post-rock underscored narrative across two discs. "Beautiful, great drifty pop filled with sadness and wonder" (Irene Trudel, WFMU).
Again choosing New Year's Day, the band released this, their 7th album, on January 1, 2018. A double-album, conceived as a gapless one, songs and underscored spoken word blending seamlessly over two discs and as many hours. Originally conceived for performance in collaboration with a visual artist, the band set out instead to create an experience for the listener akin to that of a distant late night radio broadcast finding us as we lay half-asleep in bed. Featuring narrative poetry, composed and underscored by Serafin-Wells, and revisiting the songs of Of Love and Loss in longform, the double-album reached the #19 spot of WFMU's album charts in May 2018 and entered the top 200 of the North America College and Community Radio (NACC) listings. Celebrated by France's Indiemusic as "Unforgettable and essential. This is a major record", upon its release, by December it had been hailed as one of year's best albums by Les Oreilles Curieuses for its "celestial and spell-bounding compositions, astounding us with beauty. Brilliant, luminous and cathartic. Puts shoegaze back into a state of grace."
SLUGG0012CD
Dream Together
2017
Released on New Year's Day 2017, the band's 6th album continues the journey into longform sonic narrative, including four instrumentals among its twelve new compositions. Again incorporating both original spoken word underscored by ambient guitars and Ms. Serafin's archived vocals in new works. A dreampop template that travels the distance from the gentle echoey strains of the opener, "Thirteen", to the dark bowed guitars of "Listen", the explosion of exuberant faith on "Ever and Ever Forever, the pop-tinged whimsy of "Tail O'er Fin" and the breathtakingly epic closer, "To The Other Half of the Sky". Considered by some as the band's breakthrough album, finding wide airplay on non- commercial radio, reaching the #18 spot on California's KDVS and gaining praise from France's Indiemusic who called it "magical and majestic – an ultimate tour-de-force."
SLUGG0010CD
Electric Hymnal
2016
The band's first foray into the use of spoken word, their 5th album is a blend of devotional songs and poetry both secular and sacred underscored by Serafin-Wells's post-rock, shoegazey guitars. Described by the group themselves as a sonic prayer for their fallen bandmate, Ms. Serafin, and released on limited-edition CD only (no digital), the album was given away to fans upon request as "a gift of faith". Again, praised by Ground Control: "…Get ready to be swept up and away by a prayerful reverie of melodies. Listening, I began to feel like I was flying. Don't forget that Bipolar Explorer is a post-rock band. Low growling vocals, gnarly grinding tempos, rhythmic looping strands that escape and rise above the weight of this world, where angels and the living mingle…"
SLUGG009CD
Angels
2015
Named Best Album of the Year by Ground Control Magazine. Featuring the title track "Angels", the epic, Velvet's-tinged "Can't I Be With You, Now?" and the atmospheric closer, "Sunset Crush".
As ever, this record is of, for and about our fallen bandmate, my love and partner, Summer Lindsay Serafin (11/13/79 – 3/18/11). "She was like that device they use in open heart surgery that cracks your chest open and holds it gaping, wide, so you can be healed. That fragile little muscle, scarred and scared and on the verge of giving out, giving up, held now, tenderly, in her expert hands, beneath her loving, healing gaze. Love you forever. Goodnight, little sweetheart... -Michael Serafin-Wells, New York City - December 2014
SLUGG006CD
BPXmas
2014
Hailed as "eclectic, steadfast and powerful" (PopMatters) and "taut, urgent and altogether haunting" (Ground Control) NYC's Bipolar Explorer bring their emotive, moody indie-rock dreampop vibe to this new collection of Christmas songs. Featuring one original holiday composition and new arrangements of four traditional carols, recorded, according to the band, "live, noisily and in a hurry" at their studio in Hell's Kitchen. Ground Control called this record "Brilliant - ranging from moody shoegaze to jangly dreampop with a sturdy bit of the ruins of CBGB's undergirding the lot..."
SLUGG005CD
Of Love and Loss
2012
Critic's Pick - Best Albums of the Year 2013 Ground Control Magazine, this double-record is of, for and about the group's fallen bandmate, MIchael's Love & Partner, Summer Serafin.
 "the most heart-stirring album of the year, it feels and sounds like music that is really from inside someone's own skin, skeleton, bloodstream and remains"
The record is an eclectic mix of the studio recordings made with Summer on dual-vocals and the home ones written and recorded by Michael after her passing. Of, for and about Summer, the disparate sounds comprising "Of Love and Loss" seem entirely appropriate given Summer's own fierce commitment to retaining the immediacy of the band's demos in all "proper" releases.
Proceeds are marked for the memorial fund in Summer's name: Summer Serafin Memorial Transplant Fund, c/o University of Minnesota, Minnesota Medical Foundation, PO Box 64001, St. Paul, MN 55164-0001.
SLUGG004CD